Making Humboldt an inclusive learning center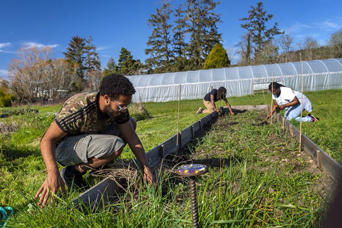 Fostering an inclusive campus is one of Cal Poly Humboldt's primary goals. To achieve that takes ongoing effort with help from the Office of Diversity, Equity & Inclusion as well as the entire campus community.
It means hiring faculty and recruiting students who are representative of the wide diversity of California, as well as ensuring that they feel welcome and connected to campus and the community once they're here.
The Cultural Centers for Academic Excellence are excellent resources for Humboldt students, providing networks that blend cultural, community and faculty engagement with structured mentoring to assist students in reaching their academic and career goals.
The Centers include El Centro Académico Cultural de Humboldt; The Umoja Center for Pan African Student Excellence; the Social Justice, Equity, & Inclusion Center; and ITEPP, the Native American Center for Academic Excellence.
Please encourage your students to visit these centers and get to know the supportive programs they offer, from academic help to fun campus activities.
These centers are sponsoring five cultural graduation celebrations this year, to accompany the campus-wide Spring Commencement on May 14. These more intimate celebrations offer an opportunity to celebrate the rich diversity and cultural traditions of Cal Poly Humboldt students, and recognize their hard work and perseverance. If your student hasn't yet signed up for a cultural graduation celebration and is interested, they can email the center coordinator. Contact information can be found on the Cultural Graduation Celebrations page of the Commencement website.
Other recent programs that connect Humboldt students to each other and the community include the Black to the Land Farm Project, which trains and supports Black students to be the next generation of farmers. Every Wednesday and Friday, Douglas Smith, coordinator of the Umoja Center, brings six students to Bayside Park Farm in Arcata to grow kale and collard greens. They will soon be raising chickens, too. Read our news story more about the Black to the Land Project on Humboldt NOW.
Free Summer Courses For Students
In a first for Cal Poly Humboldt and to advance student success, the University is offering two free summer session classes for undergraduate students currently enrolled in a degree program.
The program allows students to fulfill prerequisites and GE requirements, potentially graduate sooner, and makes room for them to take elective courses during spring and fall semesters. Students could save more than $2,300 by taking two summer courses. Learn about course offerings, registration, fees & deadlines, and summer class schedule on the Extended Education website.
Moving out of Campus Residences
The residence halls close for the academic year on Saturday, May 14, 2022 at 10 a.m. Students must be completely moved out of the residence halls by this time. Extensions are only granted for graduating seniors for an additional 24 hours. Beginning at 10 a.m., residents will be charged $35 per hour until they have completely vacated their room and checked out. Learn more about residence hall move-out on the Housing & Residence Life website.
Join the Conversation
Social Network » hsufamilynetwork.org
Website » family.humboldt.edu
Latest News from Campus
Giving Opportunity
The Class of 2022 Legacy gift is raising funds to support the Student Adversity Fund. This campaign is to challenge the class of 2022 to raise $2,022 for the Student Adversity Fund and leave a legacy on campus.