New Telehealth Service Expands Student Health Care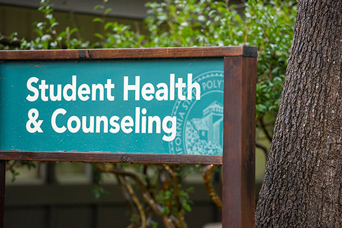 Cal Poly Humboldt recently introduced TimelyCare, a service students can use to find licensed medical and mental health providers outside regular business hours (nights, weekends, holidays, and during winter, spring, fall, and summer breaks).
This proprietary technology provides students a 24/7 extension of Cal Poly Humboldt's health and counseling center resources and is part of the University's ongoing efforts to prioritize the health and wellbeing of the campus community.
TimelyCare is one of several resources offered by Cal Poly Humboldt's Student Health & Wellbeing Services (SHWS). SHWS will remain the primary healthcare touchpoint for students and will coordinate care and make referrals to TimelyCare as appropriate. At the same time, the addition of TimelyCare means Humboldt students have access to on-demand after-hours care in all 50 states, a service that's especially beneficial for those who live in remote areas with limited healthcare options, says Dr. Jennifer Sanford, Interim Executive Director of SHWS.
"Now more than ever we need to address gaps in health coverage for our student community. Our partnership with TimelyCare will provide a critical expansion of services when SHWS is not available to them," says Sanford. "I am really excited about being able to offer our students comprehensive support, in addition to diversifying our network of available clinicians through this partnership."
Using the TimelyCare app from a phone or desktop, students can choose virtual care options from licensed physicians and counselors with diverse backgrounds in all 50 states at no cost. Provider profiles and details of their specialties are available as well. Students can select a specific provider or the first available appointment. Services include:
Medical care (on-demand and appointment-based)
Mental health counseling (on-demand and appointment-based)
Psychiatric support (upon internal referral)
Health coaching
Commencement
Make sure you and your student are prepared for Commencement on Saturday, May 14.
The ceremony will take place in the Redwood Bowl and will be livestreamed.
Audience members will also need tickets to attend the in-person ceremony.
Visit the Commencement website to register, order regalia, memorabilia, and flowers, and find information on health requirements.
Join the Conversation
Social Network » hsufamilynetwork.org
Website » family.humboldt.edu
Latest News from Campus
Free Summer Courses For Students
Alum Among First Peace Corps Volunteers to Return to Service Overseas
'Black to the Land' Nurtures Growth and Connection
Cal Poly Humboldt's Ambitious Climate Action Plan
Food Summit Features Indigenous Food Festival, Workshops, Volunteer Opportunities
Giving Opportunity
The Class of 2022 Legacy gift is raising funds to support the Student Adversity Fund. This campaign is to challenge the class of 2022 to raise $2,022 for the Student Adversity Fund and leave a legacy on campus.