Expanding Academic Programs as a Polytechnic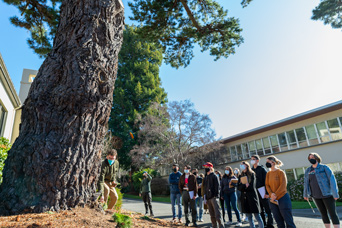 Cal Poly Humboldt's vision to become an innovative polytechnic rests on our excellent academic programs. To that end, the University plans to launch 12 new academic programs and has proposed an additional 15 over the next seven years.
Three new programs have been approved to accept students beginning in Fall 2023.
Cannabis Studies, B.A.
Data Science, B.S.
Marine Biology, B.S.
These expansions mean more options for your student and others like them to gain a modern, well-rounded, career-building education. These majors will help meet the demand for these kinds of degrees and the demand for skilled workers in California across a variety of industries.
This has been a major effort to serve the needs of our students. Developing and approving a curriculum for a single program can take up to two years. Creating new programming on this scale and on an accelerated timeline is unprecedented. We're extremely proud of our faculty and staff who are working hard to continue providing students an amazing educational experience at Cal Poly Humboldt.
The campus experts leading this transformation are a diverse group, and many of them are Humboldt Alumni:
Eileen Cashman ('84, Environmental Resources Engineering), Environmental Resources Engineering professor and chair, is leading the effort to implement new academic programs.
Michael Fisher ('04, Psychology, '10 Master of Business Administration), Associate Vice President of Facilities, is in charge of the new labs, classrooms, housing, and other facilities that will improve campus.
Connie Stewart ('88, Speech Communication), Director of the California Center for Rural Policy, is a liaison between the University, the state legislature, our campus community, and more.
While everyone's path in life is different, these alumni leaders just go to show that your student can make a tremendous impact on their communities.
Join the Conversation
Social Network » hsufamilynetwork.org
Website » family.humboldt.edu
Latest News from Campus
Journalist Wields Media Strategy to Empower Communities, Make an Impact
New Art Exhibit From Julia Bradshaw Showcases Two Photography Projects Together
Look up, Looking Ahead: New work from Cal Poly Humboldt Student Filmmakers
Renowned Local Activist Betty Chinn to Receive Honorary Doctorate
Cal Poly Humboldt Adds Triathlon as 12th NCAA Division II Sport
Giving Opportunity
Join the crowd of Cal Poly Humboldt parents and families who are making a difference to improve the student experience through gifts to the Parents & Family Fund. It is one of the most impactful ways to support your student and their peers at Humboldt!
Fundraising is currently underway, and you might be receiving a call from a student right now! We are halfway funded—help us get to our goal!