A Day on, Not a Day off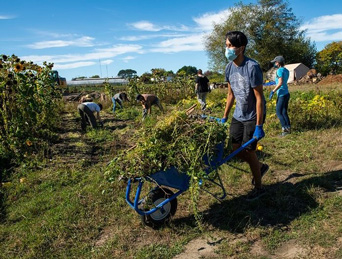 Humboldt State will host a morning of civic engagement and community volunteering in honor of Martin Luther King, Jr. on Monday, Jan. 17. Bree Newsome, a community organizer and activist, will provide a virtual closing address.

Students are invited to participate and get involved at four local community sites. It's an opportunity to make friends, connect with the community, and get involved in local volunteer projects.

HSU students, staff, and faculty can sign up here: yes.humboldt.edu/mlk. Check-in begins at 8 a.m. and transportation and a t-shirt are provided.

"The MLK Day of Service is an opportunity to volunteer and make a positive difference in Humboldt County while honoring the legacy of Dr. Martin Luther King Jr," says Melea Smith coordinator of the Youth Education Services (Y.E.S.). "Students enjoy working alongside other caring and motivated HSU volunteers on a variety of projects. It's a day for building connections and community. This event is an uplifting way to kick off the spring semester!"

Bree Newsome shares her impassioned message about racial equality and illustrates how, with courage, zeal and the support of others, ordinary people can make an extraordinary difference.

This contemporary civil rights activist first garnered national attention for her daring act of peaceful disobedience in June 2015. Following the brutal murder of nine black parishioners at Mother Emmanuel Church in Charleston, South Carolina, Bree climbed the flagpole at the South Carolina statehouse and pulled down the Confederate Battle flag in protest of racist symbolism. Her arrest galvanized public opinion and led to the permanent removal of the flag.

As a recognized and celebrated voice on the topics of injustice and racial discrimination, Bree brings to light the importance of leadership development in building and sustaining social movements.

Also an accomplished filmmaker and musician, Bree skillfully outlines the relationship between activism and art, and captivates audiences as she describes in cinematic detail the heroic gestures of ordinary people on the front lines of activism.

» Sign up to view the virtual closing address



Vaccination Booster Requirement and Attestation Status
Beginning Sunday, Jan. 23, any student, staff, or faculty member who is eligible must have received a COVID-19 booster to be considered fully vaccinated. All students and employees are also required to be up to date with their attestation status by January 23. This means your student must attest that they are fully vaccinated (including a booster if eligible) or that they qualify for a medical or religious exemption. If your student is granted an exemption, they will be given accommodations, which include required weekly testing.
Your student can learn how to submit their booster vaccination status here.
Students and employees are strongly encouraged not to wait to return to HSU for Spring Semester before receiving the vaccination, if possible. There are limited supplies in the Humboldt County area. Visit My Turn California to find booster availability near you.
Remind your student to check their Humboldt State email and visit campusready.humboldt.edu for more information.
Join the Conversation
Social Network » hsufamilynetwork.org
Website » family.humboldt.edu
Latest News from Campus
Congratulations to the Class of Fall 2021 »
Alumni and HSU Community Grant 'Winter Wishes' for Local Kids »
Contactless Digital Payment for HSU Parking through New App »
CR-HSU Partnership: Improving Access to Higher Education on the North Coast »
New Dean of College of Arts, Humanities & Social Sciences »
Giving Opportunity
Join the crowd of HSU parents and families who are making a difference to improve the student experience through gifts to the Parents & Family Fund. It is one of the most impactful ways to support your student and their peers at Humboldt State!