DONORS SUPPORT STUDENTS THROUGH DIFFICULT TIMES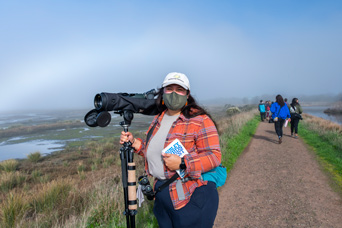 During another challenging year for our students, the Humboldt State Community pitched in to provide remarkable support throughout a historic wildfire year and pandemic.
Faculty, staff, alumni, families, community members, and others gave more than $9.4 million to directly support students in the last year. These support funds, which people can continue to support, included:
The Student Success Scholarship helps students in need across all disciplines.
The Student Adversity Fund helps students stay in school, covering such necessities as lost wages, housing, food, transportation, relocation costs, technology, and other essentials.
Oh SNAP! Student Food Programs respond to the emergency food needs of students, and include an ongoing free food pantry that has supported students throughout the pandemic.
We give our heartfelt thanks to everyone who donated to support students this year and who continue to give. Your student can apply for hundreds of scholarships now through January 31. Visit the Financial Aid website for more information, including a full list of opportunities. If your student has an unexpected hardship, they can apply for relief through the Financial Aid office.
RECHARGE DURING WINTER BREAK
Winter break is an important time to reconnect with your student. It gives them a chance to share what they've learned and how they've grown during the last semester, and to plan for future success.
It's important to support your student during the break, especially if they're returning home after their first semester at Humboldt State.
Talk and Listen Talk with them about the challenges of their semester. Listen to their concerns and steer them toward constructive ways of dealing with roommate, social, or academic issues. Understand they are transitioning into adulthood and their place in the family structure may be changing. Don't forget to talk about the good too—new friends, professors, and accomplishments, as well as future goals.
Encourage Winter break is a time when many students may feel like they can't continue with college. It helps them to hear from you that you're proud of them and they're doing a good job. Talk with your student about their school year. What study, writing, and testing strategies worked for them? Which didn't? Help them identify study habits and partners, as well as academic resources they can use to excel in the spring. Learning how to learn is one of the most important parts of college.
Compromise Your student has gotten used to some independence (and you have too, probably). Be flexible about expectations and don't expect to fall back into the routine you had before they left home. Your student is probably going to want to pack in a lot over their break, including visiting old friends.
Rest Your student is going to be tired from the semester. They may need to sleep a lot and recuperate. Try to be understanding and encourage them to have the down time they need to regain their energy.
FREE HOMEWARD BOUND BUS RIDES
HSU is offering free rides for students on the Homeward Bound Bus, thanks to expanded funding for Basic Needs. The bus makes stops in San Francisco and Los Angeles and is intended to provide transportation to students who would not otherwise be able to afford to travel.
For Winter break, the bus leaves campus on Saturday, Dec. 18 and returns on Saturday, Jan. 15. Sign-ups go live on Saturday, Dec. 4 at 6:00 p.m. and are available on a first come, first serve basis. Filling out the signup form does not guarantee a spot on the bus. Confirmations will be emailed out three days after signing up.
For more information and the link to sign up visit parking.humboldt.edu/homeward-bound-program.
FALL 2021 COMMENCEMENT
Humboldt State University is excited to announce that it will host the first-ever Fall Commencement ceremony to recognize the achievements of HSU's Fall 2021 graduates. There will be a single ceremony for graduates in all Colleges on Friday, Dec. 17 at 3 p.m. in Lumberjack Arena.
PLEASE NOTE: Proof of COVID-19 vaccination or a negative test result will be required for any visitor who is over the age of 12 accessing campus events unless they are staff, faculty, or a student. Learn more about this requirement here.
The events will be livestreamed, and links to the livestream will be available on the Commencement website and HSU homepage.
2022 CALENDARS ON THE WAY
Be on the lookout for the 2022 Humboldt State Calendar, featuring gorgeous photos of the local places we love. Your copy of the calendar should be arriving in the mail soon. Happy New Year!
Join the Conversation
Social Network » hsufamilynetwork.org
Website » family.humboldt.edu
Latest News from Campus
HSU Press Announces Summer and Fall Publications
Study: Voting at Humboldt State University Skyrocketed in 2020
HSU Continues to Participate in Expanded CSU Effort to Provide Incoming Students with Free iPads
'Poly-TEK?' Celebrated 'Braiding Sweetgrass' Author to Discuss Indigenous Knowledge
New Visibility Dashboard Announced During Transgender Awareness Week
Giving Opportunity
Join the crowd of HSU parents and families who are making a difference to improve the student experience through gifts to the Parents & Family Fund. It is one of the most impactful ways to support your student and their peers at Humboldt State!