Student Health and Staying Well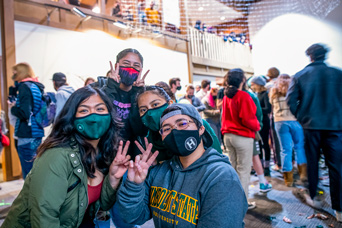 Fall is a beautiful time on the North Coast, but it also means longer nights and colder weather. It's also a time when your student's classes become more rigorous. Here are some ways to help your student stay mentally healthy so they can succeed.
Studies show that a lack of sleep can hurt students in many ways, including lowering GPAs. The impact can be as severe or worse than the use of alcohol or drugs. Encourage your student to practice healthy sleeping habits, getting seven to nine hours per night.
In addition to sleep, a balanced diet and regular exercise have been shown to improve overall mental health. Practicing stress management techniques such as meditation, journaling, or spending time in nature can make a big difference. We also know that having good social support and taking study breaks can help. So, ask your student, "Have you taken a walk in the Arcata Community Forest lately? Have you checked out a campus club?"
University "Skillshops" are free, hour-long classes that offer professional and academic advice, as well as health-related topics like sleep and healthy study habits, and stress management. Point your student toward these options at libguides.humboldt.edu/skillshops.
Student Health & Wellbeing Services offers a variety of medical and mental health services on its campus clinic. Encourage your student to reach out and utilize these services, which are mostly free or low-cost. Clinic staff members are welcoming and dedicated to students' overall wellbeing.
Student Health Center daytime hours: 707.826.3146
Student Health Center after hours nursing advice line: 877.256.3534
Counseling & Psychological Services 24-hour phone line: 707.826.3236
See more about services at wellbeing.humboldt.edu
Dialogue on Race
The 23rd annual Campus & Community Dialogue on Race recently finished. This year's keynote speaker was stand-up comedian Hari Kondabolu, and Lisa Nakamura, an activist and clinical psychologist, also presented to the campus.
The vision of Campus & Community Dialogue on Race is to achieve racial, social, and environmental justice on and off campus. The program's purpose is to promote and facilitate social and environmental change by engaging a diverse range of individuals, communities, and viewpoints to explore the impact of racism, and its intersections with all forms of oppression.
Fall Break
Fall Break is from November 22–26, and it's not too early to start planning for transportation.
For more information about traveling to HSU, including driving directions and transit availability, visit Travel to HSU.
To learn more about rideshares and campus car rentals see our parking website section about Alternate Transportation.
Weather can be unpredictable during this time of year, so please be sure to check road conditions and weather reports before you or your student travels.
Join the Conversation
Social Network » hsufamilynetwork.org
Website » family.humboldt.edu
Latest News from Campus
Proposal to Change University's Name at Board of Trustees Meeting »
Applications Sought for 36th Annual CSU Student Research Competition »
Telling the Story Behind 'Sugar Bear' and Six Rivers National Forest »
North Coast Otters Art Project Raises $300,000 »
HSU Housing and IT Work to Stop Rental Scams »
Giving Opportunity
Join the crowd of HSU parents and families who are making a difference to improve the student experience through gifts to the Parents & Family Fund. It is one of the most impactful ways to support your student and their peers at Humboldt State!