Good Eats, Local Flavors of Humboldt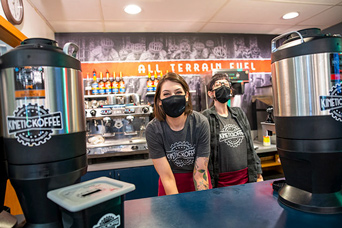 Thanks to new eateries at Humboldt State, students can fuel their studies with nutritious snacks and freshly prepared meals from local restaurants this semester. The changes come as more students are returning to in-person classes and events.
The J is HSU's main dining hall, and students' home away from home. This semester, The J is now an all-you-care-to-eat experience, allowing students to graze at the salad bar, and sample vegan and vegetarian dishes. The J Grill is also open most of the day serving hot foods like burgers, chicken tenders, fries, and more. The kitchens have also responded to student requests for more homestyle meads like pot roast and enchiladas that have proven popular.
James Richards, the General Manager of Dining, says this provides a much better variety of foods and allows students to be more selective about what they eat.
Dining is focused on nutritional health, offering a variety of vegetarian and vegan options at campus eateries, as well as selections for diners to avoid foods with major allergens.
On the ground floor of the newly renovated Student Activities Center (SAC) building, Dining Services has partnered with several Arcata businesses to bring local flavors to campus in The Depot. Next door to the much-loved Los Bagels, local roaster Kinetic Koffee has a brand new coffee bar.
Also new in The Depot is Arcata's popular burrito shop, Hey Juan Burritos, and Obento, another local eatery serving Japanese-style Bento boxes. Another new Depot offering is longtime local favorite, The Wildflower Cafe. Specializing in vegetarian and vegan entrees, salads, soups, sandwiches, and smoothies, The Wildflower Cafe has been serving meat-free cuisine to the Humboldt community for 25 years.
Upstairs, Bigfoot Burgers is outfitted with giant screen TVs streaming live games and extreme sports. Featuring beef and vegan burgers, fries, milkshakes, and local beer on tap, Bigfoot Burger is a popular place for students to kick back with friends.
These local eateries allow students to connect with foods and businesses of the region, in addition to keeping them fueled up for the semester.
"Discovering local flavors—it's fun to see," says Richards. "Students are here for four years, they run the risk of things becoming routine. Each location is independent, doing their own thing."
In addition to feeding students, meal plans of all sizes are now available to all students living off-campus, as well as faculty and staff. The J's holistic approach to nutrition also includes engaging culinary activities led by Executive Chef Mariano with The Teaching Kitchen. During chef-led demonstrations, students can learn how to make a new favorite recipe at home using fresh and accessible ingredients.
With hiring and supply issues affecting campuses across the country, Richards is thrilled with what Dining Services has been able to provide, and envisions more for the future. "I'm really proud of my team of more than 100 students from HSU who has worked with us to pull this off. I'm really happy with how far we've come."
At the New Student Activities Center
This Fall, Humboldt State University's reimagined student union has opened its doors as the Student Activities Center (SAC). Designed by students, for students, it's a place to make new friends, grab a burger, or unwind between classes, and offers something for everybody on campus. Learn more about the SAC. See photos of the SAC grand opening online.
Staying Healthy this Fall
Fall is a beautiful time on the North Coast, but it also means longer nights, colder weather, and the beginning of cold and flu season. It's also a time when your student's classes become more rigorous. Here are some ways to help your student stay healthy, mentally and physically, so they can succeed.
Advise your student to visit HSU's Wellbeing Map. Developed by campus Student Health & Wellbeing Services, this interactive tool helps students identify health issues and find the proper resources to guide them toward health. While students need an HSU login to use the Wellbeing Map, you can read more about it on the Parent & Family section of the site.
Studies show that a lack of sleep can hurt students in many ways, including lowering GPAs. The impact can be as severe or worse than the use of alcohol or drugs. Encourage your student to practice healthy sleeping habits, getting seven to nine hours per night.
Student Health & Wellbeing Services offers a variety of medical and mental health services on its campus clinic. Encourage your student to reach out and utilize these services, which are mostly free or low-cost. Clinic staff members are welcoming and dedicated to students' overall wellbeing.
See more about services at wellbeing.humboldt.edu.
Join the Conversation
Social Network » hsufamilynetwork.org
Website » family.humboldt.edu
Latest News from Campus
» HSU Joins Oregon State, University of Washington to Launch a Research Hub for Coastal Resiliency
» Peace Corps Announces New Peace Corps Prep Program at Humboldt State University
» Renowned Stem Cell Research Program Secures $3.6 Million for Student Internships
Giving Opportunity
Your gift helps ensure meaningful, positive, educational experiences for Humboldt students. Choose where to make a difference by supporting a priority giving opportunity, your favorite college or program, or search all of our funds.