Putting College Experience to Work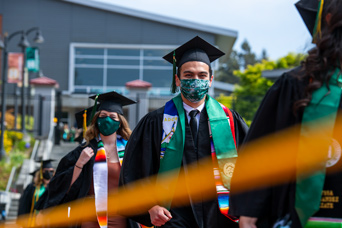 Fall is a great time for your student to look for part-time jobs, internships, and other opportunities. Whether it's to help pay for school, gain experience, or network with peers and employees, HSU has resources to help students find satisfying and rewarding experiences.
On Wednesday, Sept. 8, students are invited to join the Virtual Part-time Job Fair from 11 a.m.-3 p.m. Students will meet on- and off-campus employers hiring for virtual and in-person part-time jobs in group or one-on-one sessions. Register to attend the Fair here.
Students are also invited to join the Virtual Graduate and Professional School Fair on Thursday, Sept. 30 from 11 a.m.-3 p.m., where they can learn about post-graduate education opportunities. Registration is open.
The Academic and Career Advising Center (ACAC) is available to students year-round. Their services include live chat and drop-in advising with professional staff as well as peer advisors. ACAC offers events and Skilllshops throughout the year on topics including researching graduate schools, developing a resume, and getting the most out of a career.
ACAC also hosts HSU Handshake, a free online network where students can search for campus jobs, internships, summer jobs, community service, work-study, etc. Register for workshops and special events. Visit acac.humboldt.edu/hsu-handshake to learn more and get registered.
Encourage your student to explore how ACAC can help them reach their potential personally, academically, and professionally—and get the most from their college experience. Trying out the skills they have learned in the classroom and preparing for their transition from college students to professionals and leaders in their communities can be one of the most satisfying parts of attending HSU.
What to Expect Fall 2021
Like last Fall, stringent health and safety protocols remain in place at HSU, including mandatory vaccinations for students, staff, and faculty, plus universal masking and virtual instruction for the first two weeks of the semester followed by limited in-person classes. HSU has developed plans for flexible repopulation of campus and student experience during the 2021-22 academic year. All eateries are open, as are all buildings, and student clubs have resumed small in-person meetings and activities. Everyone must continue to do wellness self-checks before coming to campus.
Learn more about what the Fall 2021 semester looks like on the Campus Ready website.
Learning Alongside Your Student
College is an opportunity for learning new concepts, with new people, in new ways. And that's not limited to the students. We encourage you to learn alongside your student with our free, online class, Forever Humboldt Families 101.
The nine-week course is designed for new family members to learn how to support their students while at HSU. Complete the course and get a free book for you and a Humboldt State sweatshirt for your student when you finish.
Topics include transitioning into the first semester, getting involved in clubs and other activities, seeking academic support, and enjoying Humboldt's beautiful outdoors. You will also learn more about financial aid, find important housing resources, and learn about HSU's commitment to keeping your student safe and healthy.
Visit family.humboldt.edu to sign up for Forever Humboldt Families 101.
Also on the website, you will find Parent & Family guides on a variety of important topics that will help you help your student navigate the complexities of college.
Join the Conversation
Social Network » hsufamilynetwork.org
Website » family.humboldt.edu
Latest News from Campus
» Kick Back, Grab a Bite, and Play a Game at the New Student Activities Center
» HSU Alumnus Gives $1 Million for Scholarships for Local Students
» 100+ Otter Sculptures for Public Arts Initiative Raises Awareness about Otters (w/ Video)
» Bike-Share Returns to Humboldt State
Giving Opportunity
Your gift helps ensure meaningful, positive, educational experiences for Humboldt students. Choose where to make a difference by supporting a priority giving opportunity, your favorite college or program, or search all of our funds.