Seaweed Farming Makes a Splash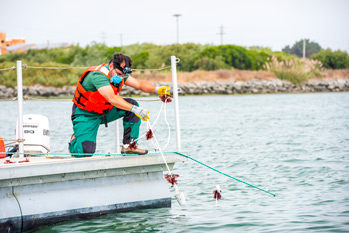 Humboldt State University is expanding and diversifying its seaweed research farm in Humboldt Bay to include bull kelp this summer. With the help of HSU students, researchers aim to inform future decisions about commercial aquaculture and conservation efforts.
This project is one of many examples of HSU students getting hands-on experience that will have an impact on their careers, and the economy and ecology of California and the world.
Researchers will add 0.33 acres to its existing seaweed farm and create a kelp hatchery onshore at the Humboldt State Marine Lab. The farm, called HSU-ProvidenSea, sits in a permitted area just a few hundred yards off the shores of Humboldt Bay. Students will gain practical ocean farming experience, monitor the reproduction and growth of the bull kelp, track factors like water quality and temperature, and evaluate the cost of seeding and production.
Kelp traps an outsized amount of carbon dioxide and reduces acidification, a byproduct of a rapidly changing atmosphere. Kelp can also be used for human consumption, animal feed, agricultural fertilizer, as sustainable alternatives to single-use plastic, and more.
"We have been talking with several companies who are enthusiastic about using the bull kelp harvested on the HSU ProvidenSea Farm," says project leader Rafael Cuevas Uribe, Professor of Fisheries Biology. "This kind of collaboration between the aquaculture industry, academia and a public agency like the Humboldt Bay Harbor District is a win/win."
Projects like the kelp farm reflect HSU's strengths in forward-thinking programs to strengthen California and the North Coast's economy, provide a modern, educated workforce, and combat climate change while improving students' lives. The State recently invested $458 million toward HSU's effort to become the third polytechnic university in the CSU. Learn more about the polytechnic process here.
A Safe Return to Campus
The California State University announced recently that it will require faculty, staff, and students who are accessing campus facilities at any university location for the Fall semester to be immunized against COVID-19.
Humboldt State University will be offering on-campus vaccination clinics. Students can check their email and campusready.humboldt.edu for more details to come. They can also check with local pharmacies or register to get vaccinated at the California Department of Public Health's My Turn website.
All students will need to self-certify their vaccination status or request an exemption to access campus facilities by September 10. If they are in the process of being vaccinated and need a deadline extension, they can email Student Health & Wellbeing Services at health@humboldt.edu. Learn more about the vaccine requirement.
The first two weeks of instruction, beginning August 23, will be conducted virtually. Beginning September 6, some courses will begin face-to-face. Humboldt County has mandated the use of masks on campus. Everyone, regardless of vaccination status, will need to be masked while indoors except if you are alone in a private office with the door closed. You will also need to wear a mask outdoors anytime you cannot maintain six feet of distance from others.
The University has decided to suspend all large in-person events on the main campus for the next eight weeks starting Monday, August 9.
More information about HSU's return to campus safeguards and precautions can be found on the Campus Ready website.
Getting Here
If your student is driving or traveling by bus to Humboldt State from afar, keep in mind that it can be a long trip. Wildfires are currently impacting some highways in the region. We recommend you pack food, as dining spots and grocery stores get sparse in the last few hours before you reach Arcata. The Arcata Transit Center station is about a mile from campus, and there's a city bus that connects to campus. Plan ahead by checking Caltrans road conditions and giving yourself plenty of time to travel. For detailed directions to HSU as well as other travel information, visit humboldt.edu/visit/travel.
Learning Alongside Your Student
College is an opportunity for learning new concepts, with new people, in new ways. And that's not limited to the students. We encourage you to learn alongside your student with our free, online class, Forever Humboldt Families 101.
The nine-week course is designed for new family members to learn how to support their students while at HSU. Complete the course and get a free book for you and a Humboldt State sweatshirt for your student when you finish.
Topics include transitioning into the first semester, getting involved in clubs and other activities, seeking academic support, and enjoying Humboldt's beautiful outdoors. You will also learn more about financial aid, find important housing resources, and learn about HSU's commitment to keeping your student safe and healthy.
Visit family.humboldt.edu to sign up for Forever Humboldt Families 101.
Also on the website, you will find Parent & Family guides on a variety of important topics that will help you help your student navigate the complexities of college.
Join the Conversation
Social Network » hsufamilynetwork.org
Website » family.humboldt.edu
Latest News from Campus
» Record Number of HSU Student-Athletes Named to All-Academic Team
» HSU Receives University-wide Accolades in Accreditation Review
» 100% Renewable Microgrid 'Takes Off' at the Redwood Coast Airport
Giving Opportunity
Your gift helps ensure meaningful, positive, educational experiences for Humboldt students. Choose where to make a difference by supporting a priority giving opportunity, your favorite college or program, or search all of our funds.