A Safer, More Equitable Campus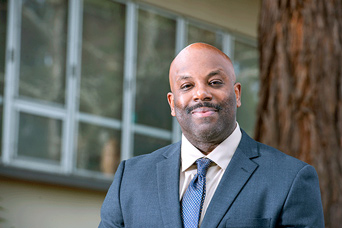 Humboldt State and Anthony Morgan, the University Police Department's new chief, are committed to the safety of students as well as their ethical, responsible treatment.
Since February, Morgan has been leading the department in a number of initiatives to promote equity and a secure campus, including the creation of a new, unarmed, non-sworn officer position to patrol campus and respond to non-urgent service calls.
Morgan has also been meeting with campus stakeholders, including students, and has led the formation of the Campus Safety & Police Public Safety Advisory Committee to work with the campus and UPD.
Other reforms introduced recently or going into the effect soon include:
Installation of mobile data terminals in police vehicles, which will allow UPD use of a tablet/laptop on the scene for certain calls. This will be helpful in assisting students who may need tele-mental health services, among other needs.
Completion of de-escalation, bias-based policing, and use of force training
Establishment of partnerships with the Humboldt County Crisis Intervention Team and HSU Sexual Violence Bystander Intervention Team regarding mental health crises and resources for community members.
Development of a new streamlined complaint process
Continued coaching and mentoring of staff
Continued assessment of departmental operational efficiencies
Installation of a "text to 911" enhancement that provides additional means for the deaf and hard of hearing to contact UPD.
"We all want to be treated with dignity and respect," says Chief Morgan. "At UPD we are committed to a policing model of public safety service. I have the honor of leading officers who are committed to the safety of everyone on campus, applying the law in an equitable and just manner, and treating everyone with dignity and respect. I welcome the opportunity for dialogue with any member of our campus community."
Learn more about Chief Morgan here.
HSU Continues Polytech Push with Plans for New Programs
Drawing on its strengths in STEM, environmental and social responsibility, and experiential learning, Humboldt State University has submitted documentation of its intent to launch several new and innovative undergraduate and graduate degree programs as soon as Fall 2022 and Fall 2023.
HSU will formally submit proposals for the following programs to the California State University for consideration: Applied Fire Science & Management, Cannabis Studies, Data Science, Energy Systems Engineering, Engineering & Community Practice, Geospatial Information Science & Technology, Marine Biology, Mechanical Engineering, and Software Engineering for Fall 2023.
Learn more about these new degree programs and HSU's journey to become the CSU's third polytechnic university.
Otters Have Arrived!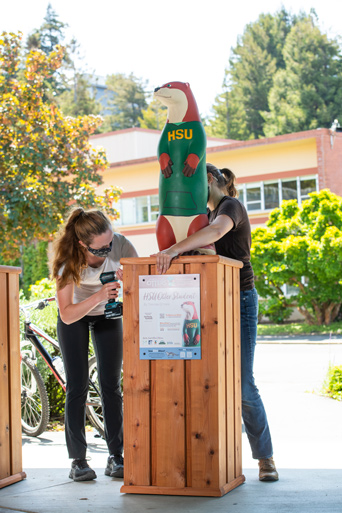 The much-anticipated North Coast Otters Otters public art festival, treasure hunt, and online auction began recently.
North Coast Otters Public Arts Initiative is a community "treasure hunt" tour of more than 100 sculptures painted by local artists, with an aim to celebrate life, water, and otters, support local businesses, and raise funds for student projects. Visit the North Coast Otters Public Arts Initiative website for images of all the otters and more information.
North Coast Otters merges art and science, encouraging imagination and observation from our region's rich creative community.
Build Bridges and Connect Communities This Summer With L4HSU
Free learning for everyone is available through Friday, August 13 through the LifeLong Learning Lounge (L4HSU). Expand your skills, network, and have fun.
The HSU Library—with partners Human Resources, The Office of Diversity, Equity, & Inclusion, and Extended Education & Global Engagement—invites you to check out the calendar of free summer programs at the Library website.
Join the Conversation
Social Network » hsufamilynetwork.org
Website » family.humboldt.edu
Latest News from Campus
» HSU Bookstore Moving to Arcata Plaza
» Cooper Jones to Lead HSU Intercollegiate Athletics & Recreational Sports
» Bike-Share Returns to Humboldt State
Giving Opportunity
Your gift helps ensure meaningful, positive, educational experiences for Humboldt students. Choose where to make a difference by supporting a priority giving opportunity, your favorite college or program, or search all of our funds. .