Getting Outdoors and Staying Active this Summer and Fall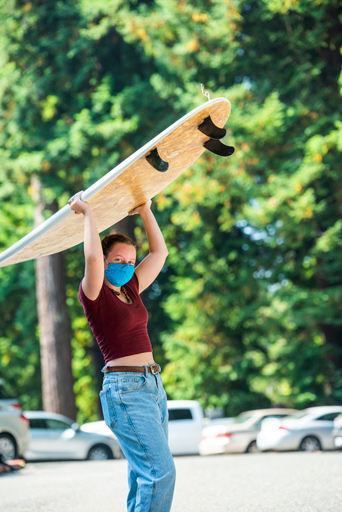 As Humboldt State continues to plan and prepare for repopulating campus in the Fall, Center Activities and Rec Sports are returning, providing students and community members with outdoor adventures, sports, equipment, and learning opportunities.
"We're so excited to get back on track with our rentals and programs," says Bridget Nichols, Associate Director of Recreational Sports and Wellness Activities. "A lot of people have discovered the outdoors during the pandemic, and we love helping people get outside and adventuring safely."
Center Activities is open for equipment rentals at the Humboldt Bay Aquatic Center and on campus. Students can rent affordable gear for all kinds of outdoor activities, including boating, surfing, camping, and more. Give Center Activities a call at 707-826-3357 to set up your appointment to pick up your equipment. Or call the Humboldt Bay Aquatic Center to get on the water off the dock on the bay at 707-443-4222.
And Center Activities certification courses are available this summer. A Wilderness First Aid Course takes place August 14-15. The course offers 16 hours of invaluable, engaging, hands-on introduction to wilderness medicine. The fee is $195 for HSU Students, $225 for faculty, staff and community members.
To register visit the Center Activities site, and be sure to check throughout the summer for more classes and programs.
HSU is also planning to offer drop-in recreation and intramural sports beginning in the Fall. This is a great opportunity to get involved, meet people, and stay healthy. Sports include basketball, soccer, volleyball, badminton, pickleball, and swimming. Visit the Rec Sports website to learn more and to plan ahead for fall activities.
Polytechnic Study Update
The Polytechnic Working Groups have spent the last several months closely examining HSU's strengths and potential in regards to becoming California's third polytechnic university.
The working groups put in a great deal of effort consulting with the campus community, hosting open forums, conducting surveys, and gathering information from all campus divisions. The working groups—whose charges are listed below—have submitted their drafts of the initial self study and Academic Affairs will be reviewing and compiling the information this summer to submit to the California State University Chancellor's Office.
Visit the Polytechnic Study website for more information and updates.
COVID-19 Immunization Requirement for Fall
The California State University announced that beginning this Fall, all faculty, staff and students who access campus facilities will be required to be immunized against COVID-19. HSU encourages students who haven't already to receive a vaccine by signing up through MyTurn.ca.gov.
The requirement will be conditional upon full approval of one or more vaccines by the FDA.
This is a CSU decision and will be required of all campuses in the system. Consistent with the CSU's policy for other required vaccinations, the COVID-19 vaccination requirement would allow for students or employees to seek an exemption based on medical or religious grounds.
Learn more about the vaccine requirement here.
Join the Conversation
Social Network » hsufamilynetwork.org
Website » family.humboldt.edu
Latest News from Campus
» Cooper Jones to Lead HSU Intercollegiate Athletics & Recreational Sports
» Build Bridges and Connect Communities This Summer With L4HSU
» Bike-Share Returns to Humboldt State
» Dr. Eboni Ford Turnbow Named Dean of Students
Help Upgrade the Vertebrate Museum Herpetology Collection
The HSU Vertebrate Museum is raising funds to upgrade their herpetology collection. Donations will be used to enhance the preservation of HSU's specimens and will increase accessibility to the collection for students and researchers.
Donate to the Vertebrate Museum Herpetology Collection Upgrade