Year of Resilience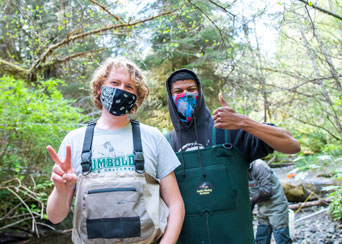 Upending life as we once knew it, the microscopic coronavirus has taken root in every corner of the world in the past year, including Humboldt State University. In the face of such a vast and dire challenge, the University continues to prepare students to become responsible members of diverse—and ever changing—communities.
HSU students, faculty, and staff have adapted in bold and creative ways in order to keep the community safe and support teaching and learning.
We're proud and appreciative of your student's perseverance. As the pandemic conditions begin to improve, we are seeing more and more reasons to be hopeful and we look toward summer and the Fall semester.
We also know that we all need to remain vigilant, as things won't be a return to normal. As your student enjoys some much-deserved rest this summer, help them remain positive and hopeful about their education. They may need support and reminders that there will be more opportunities for student life—activities, events, sports, club gatherings, and more—this fall.
As plans for the Fall are completed and implemented, we will continue to update HSU's Campus Ready Website, which has comprehensive information about pandemic planning and response, including academics and student resources and the latest news.
Help your student understand what to expect and prepare for Fall 2021 by staying up to date at Campus Ready. We hope you and your family have a wonderful summer, and we look forward to seeing you in the Fall.
Learn more about HSU's Year of Resilience
Commencement is May 14 & 15!
Tune in to this year's Commencement virtually by visiting humboldt.edu for a link to the ceremony livestreams.
The ceremony schedule is:
Friday, May 14
4 p.m.—All Colleges
Saturday, May 15
9 a.m.—College of Arts, Humanities & Social Sciences
12:30 p.m.—College of Natural Resources & Sciences
4 p.m.—College of Professional Studies
Learn more on the Commencement website.
The Class of 2021 Legacy gift is raising funds to support the Student Adversity Fund. To learn how you can help, visit the campaign website.
Moving Out
Move-out deadline for on-campus student residents is Saturday, May 15 at 10 a.m. Learn more about move-out by visiting the Housing & Residence Life website.
CSU Announces COVID-19 Immunization Requirement for Fall
The California State University today announced that beginning this Fall, all faculty, staff and students who access campus facilities will be required to be immunized against COVID-19. HSU encourages students who haven't already to receive a vaccine by signing up through MyTurn.ca.gov.
The requirement will be conditional upon full approval of one or more vaccines by the FDA.
This is a CSU decision and will be required of all campuses in the system. Consistent with the CSU's policy for other required vaccinations, the COVID-19 vaccination requirement would allow for students or employees to seek an exemption based on medical or religious grounds.
Learn more about the vaccine requirement here.
Spring 2021 Magazine
Read how the Lumberjack community adapted and thrived during a year like no other, catch up on alumni, see student, staff, and faculty achievements, and more.
The Spring 2021 edition of Humboldt magazine is online and on its way to mail boxes. View it online here.
Polytechnic Study Update
The Polytechnic Working Groups have spent the last several months closely examining HSU's strengths and potential in regards to becoming California's third Polytechnic University.
The working groups put in a great deal of effort consulting with the campus community, hosting open forums, conducting surveys, and gathering information from all campus divisions. The working groups—whose charges are listed below—have submitted their drafts of the initial self study and Academic Affairs will be reviewing and compiling the information this summer to submit to the Chancellor's Office.
Visit the Polytechnic Study website for more information and updates.
Join the Conversation
Social Network » hsufamilynetwork.org
Website » family.humboldt.edu
Latest News from Campus
» HSU Student Kickstarts Career Development Program for Local Youth
» HSU Presents Dance Visions, a Dance Concert
» HSU Students Win Prestigious Journalism Awards
» Humboldt State Unveils New Athletics Logo
» Humboldt State University's 2021 Distinguished Alumni
Making a Difference in Students' Lives
Your gift helps ensure meaningful, positive, educational experiences for Humboldt students. Choose where to make a difference by supporting a priority giving opportunity, your favorite college or program, or search all of our funds. Visit the giving page to learn more.