Parent & Family Fund Builds Foundation for Student Success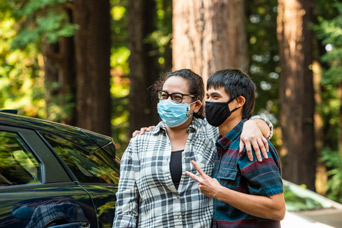 Part of being a parent or family member of a college student is always looking for ways to help them succeed.
The Parent & Family Fund contributes to a number of important student-focused initiatives each year. This year, in conjunction with the Humboldt Loyalty Fund, the Parents & Family Fund is providing:
$50,000 to the Wildland Fire Institute
$20,000 to the Center for Translation and Interpretation
$25,000 to the Food Sovereignty Lab, which will support the resurgence of Indigenous food sovereignty and traditional ecological and cultural knowledge to build a better future for our planet. Learn more about the Lab.
Parents and families contributed more than $22,000 to the parents and family fund just last year and $10,600 so far this year.
"We are so lucky to have such engaged families supporting their students and the University through the Parents and Family Fund," says Stephanie Lane, Alumni Relations Director. "We continue to improve the HSU student experience through their generosity."
Free COVID-19 Testing for Students, Vaccinations Begin
Free COVID-19 testing for students, staff, and faculty is now available. Testing takes place at the Great Hall, Tuesdays–Thursdays, 9:30 a.m.–4:30 p.m., and you must register in advance to schedule an appointment. The Great Hall is located on the second floor above the College Creek Marketplace, across from the Student Business Services building. There is no limit to the number of tests an employee or student can receive. Learn more and register for a test here.
Vaccinations for HSU employees are expected to begin in the next few weeks. Student employees, including those working for auxiliaries and dining, will also be eligible to receive the vaccine. Staff and faculty who want to be vaccinated should complete the HSU survey.
All Humboldt County residents—including HSU staff, faculty, and students—who want to receive the vaccine are encouraged to fill out a County vaccine survey as well. Submit your contact information through an online form to be notified when doses are available for their tier. Fill out the COVID-19 Vaccine Interest form and read more about the COVID-19 vaccine from the CDC.
Learn more about testing and vaccines at the Campus Ready Website.
Planning Strategically for the Future
Humboldt State University announced a bold new vision in its "Future Forward: 2021-2026 Strategic Plan," which outlines the University's purpose, values, and goals for the next five years.
The plan articulates the University's vision "to be a campus for those who seek, above all else, to improve the global human condition and our relationship with the environment."
"The HSU strategic plan provides a roadmap to ensure a positive, meaningful educational experience for our students," says HSU President Tom Jackson. "It encourages us to be bold and innovative in all that we do while celebrating our diverse institution and the work of our staff and faculty."
Learn more about the Strategic Plan process online.
You Can Make a Difference!
Help make HSU's Food Sovereignty Lab a reality. The Lab will support the resurgence of Indigenous food sovereignty and traditional ecological and cultural knowledge to build a better future for our planet. This campaign will enable the purchase of the stainless steel refrigeration, tables, and countertops needed to complete the lab. Support the Food Sovereignty Lab.

Humboldt State Polytechnic Self-Study
HSU is continuing a self-study toward becoming designated a polytechnic university.
The request offers the momentous possibility of HSU becoming one of just three polytechnic universities in the state, and the only one in Northern California. The designation would better position HSU to meet specific workforce needs on the North Coast and across the state, and would significantly raise HSU's profile among prospective students and grant-funding organizations.
Learn more about this exciting opportunity, including chances for you to weigh in on the process, at the Polytechnic Self-Study website.
Join the Conversation
Social Network » hsufamilynetwork.org
Website » family.humboldt.edu
Latest News from Campus
HSU Menus Expanded, Plus More Affordable Meal Plans Ahead for Fall »
Humboldt State University Unveils Vision for the Future »
New UPD Police Chief Anthony Morgan Views Role as Opportunity for Positive Change »
Student Athletes Returning to Play »
Planning for Fall Classes and Operations
Planning for Fall 2021 is underway, which will include assessing the options for providing a modest increase in face-to-face course offerings, as well as the capacity to safely house a limited number of students, expand face-face student activities if able, and maintain day-to-day operations. Read more on the Campus Ready website.
Campus Ready
Humboldt State University has developed plans for virtual and face-to-face instruction, the safe repopulation of campus, and the student experience during the 2020-21 academic year. Learn more at campusready.humboldt.edu.