Graduating in a Changing World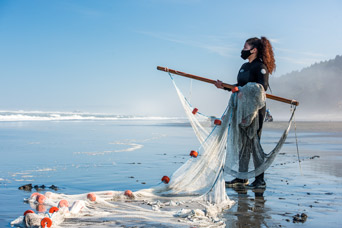 Humboldt State is dedicated to helping your student succeed after graduation, especially amid the uncertainty of the ongoing pandemic.
HSU's Academic & Career Advising Center (ACAC) career advisors have developed and curated numerous resources to assist students virtually, keeping in mind how COVID-19 has affected nearly every aspect of our lives.
To get started, ACAC offers a virtual resource page to help students find part-time, local, face-to-face, remote, volunteer, and work-from-home opportunities. There are also tips about interviewing and working remotely, money matters, and self-care to help students be successful in these difficult and unprecedented times.
ACAC and Center for Community Based Learning will host the virtual Career & Volunteer Expo on Wednesday, Feb. 10 and Thursday, Feb. 11. Encourage your student to register for the Expo and explore the other options available on HSU Handshake, the career platform.
ACAC Career Advisors continue to provide numerous Library Skillshops, including "Networking for introverts," "Recognizing new career skills during COVID," "How to find a job wherever you are," and many more. See ACAC workshops here.
Advisors continue to host one-on-one meetings with students to provide the full spectrum of career advising. ACAC hosts a virtual front desk and virtual drop-ins every weekday from 10-1 p.m. to provide students with immediate assistance with their questions. Visit acac.humboldt.edu to get in touch.
ACAC also recently added the StandOut online interviewing platform, which allows students to practice interviewing and get feedback. Students can practice on StandOut and discuss their experience with a career advisor for more in-depth insight. Students also have the opportunity to meet with a career advisor in an informal, small group setting. Session topics include:
Interviewing in a virtual pandemic world
Skills you're building in a pandemic that will carry forward in the real world
Find interviewing tips and resources.
Finally, the Identity-Based Resources page is continually updated by career advisors to help support students who are navigating identity in the workplace with assessing prospective employers, networking and mentorship based on identity, navigating professional fields, and other identity-specific resources.
Spring Semester Schedule
Like most of the country, Humboldt County is currently experiencing a surge in COVID-19 cases.
In response, the Governor's Office announced a regional "stay at home" order and the California State University Chancellor's Office has requested that all CSUs reduce the density of people on campuses during the Spring 2021 semester to reduce the spread of COVID-19.
Because of this, Humboldt State will modify its academic calendar for the Spring 2021 semester to ensure face-to-face instruction can be done safely. The changes to the calendar will not alter the number of instructional days or academic work days.
Spring 2021 Academic Schedule
Tuesday, Jan. 19: Fully virtual Spring instruction begins
Feb. 22-26: Spring Break
Monday, Mar. 8: Limited face-to-face instruction for approved courses will begin and continue through to the end of the semester
Monday, May 10: Final exams begin
Spring 2021 Housing Schedule
Friday, Feb. 19: Move-in for new Housing residents and those who left over the Winter Break

Housing will send out a communication to all residents, Winter Break stayovers, and new applicants about move-in details. All residents must check out with Housing when they leave for the break.
Find Spring semester resources and more information about HSU's response to COVID-19 at campusready.humboldt.edu.
Return to In-person Classes Fall 2021
The California State University announced that it is planning for an anticipated return to delivering courses primarily in-person starting with the Fall 2021 term.
Read the full announcement here.
2021 'Local Places You Love' Calendar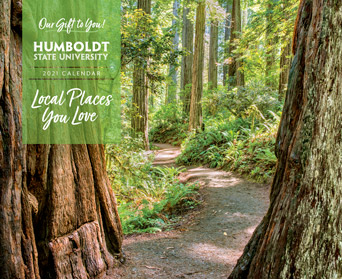 By now you should have received HSU's "Local Places You Love" calendar, full of spectacular images from in and around Humboldt County. If you didn't receive a calendar, contact us at forever@humboldt.edu and we will mail one to you.
Join the Conversation
Social Network » hsufamilynetwork.org
Website » family.humboldt.edu
Email » family@humboldt.edu
Latest News from Campus
» Dr. Elavie Ndura Named AVP for Diversity, Equity & Inclusion
» Young Screenplay Writers Named Winners at CSU Media Arts Festival
» 'Enrolling to Thriving:' Diverse Male Scholars Initiative Enriches HSI Role
» More Than 130 Diverse Voices Published by HSU Press in 2020
Distinguished Alumni Speaker Series
This could be your student one day! How about spending the rest of your Winter Break learning about HSU alumni who've done great things for their communities and the world? Read about alumni, and watch inspiring speeches from this year's Distinguished Alumni on the Forever Humboldt website.
Campus Ready
Humboldt State University has developed plans for instruction, flexible repopulation of campus, and student experience during the 2020-21 academic year. Learn more at campusready.humboldt.edu.
You Can Make a Difference!
The Student Success Scholarship is HSU's most flexible scholarship, helping students in all disciplines, with the greatest needs. Your gift to the HSU Student Success Scholarship will be combined with other donors' gifts to help provide as many scholarships as possible. Visit the Humboldt State Foundation website to learn more and give today.