Donors Support Students Through Difficult Times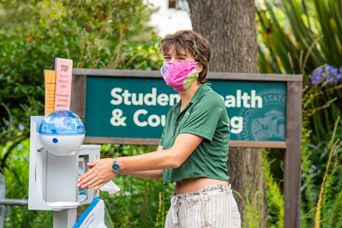 This was an extraordinary year for our students, and could have been much more difficult if the Humboldt State Community hadn't pitched in remarkable support throughout a historic wildfire year and pandemic.
Faculty, staff, alumni, families, community members, and others gave more than $1.4 million to directly support students in the last year, including more than $150,000 in emergency support. These support funds, which people can continue to support, included:
The Student Success Scholarship, which helps students in need across all disciplines.
The Student Adversity Fund helped students to address the pressures brought on by unexpected hardships helping students stay in school, covering such necessities as lost wages, housing, food, transportation, relocation costs, technology, and other essentials.
And the Student Wildfire Hardship Relief fund supported those who may have been affected by devastating wildfires, of particular importance while many students are learning virtually.
The Dreamers Adversity Fund supported HSU California Dream Act students in the wake of hardships with a gift that will help offset the loss of wages, secure housing, and afford basic needs that may have been brought on this year.
Oh SNAP! Student Food Programs respond to the emergency food needs of students, and include an ongoing free food pantry that has supported students throughout the pandemic.
The Overcoming Barriers to Health fund helps students with unforeseen medical needs continue on the path towards graduation.
We give our heartfelt thanks to everyone who donated to support students this year and who continue to give. Your student can apply for hundreds of scholarships now through January 31. Visit the Financial Aid website for more information, including a full list of opportunities. If your student has an unexpected hardship, they can apply for relief through the financial aid office.
2021 Calendars on the Way
Be on the lookout for the 2021 Humboldt State Calendar, featuring gorgeous photos of the local places we love. Your copy of the calendar should be arriving in the mail soon. Happy New Year!
COVID-19 Information
HSU continues to prioritize safety and academics, planning for and responding to changes and following guidance from County and State Public Health.
New travel restrictions for Humboldt County residents have been declared by Humboldt County Public Health, including a required 14-day quarantine for those who travel. Learn more about the latest restrictions on our Campus Ready website.
Students living on campus who plan to return in January are not required to stay in housing after Nov. 6 and may leave their belongings until the start of the Spring semester. Students will be tested for COVID-19 upon returning to HSU housing. Students who elect to leave before December 11 will be released from the remaining rent and board charges by following the Request to Vacate procedure that was emailed out recently to all Housing residents. Contact Housing with any questions about this process: housing@humboldt.edu or (707) 826-3451.
Humboldt State University's Spring semester will be similar to Fall as far as plans for instruction, flexible repopulation of campus, and student experience. Learn more about the Spring semester here.
Join the Conversation
Social Network » hsufamilynetwork.org
Website » family.humboldt.edu
Email » family@humboldt.edu
Latest News from Campus
» Humboldt State Asked to Plan for Consideration to Be State's Third Polytechnic
» Students Stay Connected to Community Through Virtual Volunteerism
» Alumna Named Cal State East Bay President
Distinguished Alumni Speaker Series
This could be your student one day! How about spending your Winter Break learning about HSU alumni who've done great things for their communities and the world? Read about alumni, and watch inspiring speeches from this year's Distinguished Alumni on the Forever Humboldt website.
Campus Ready
Humboldt State University has developed plans for instruction, flexible repopulation of campus, and student experience during the 2020-21 academic year. Learn more at campusready.humboldt.edu.