Staying Academically Strong Through Finals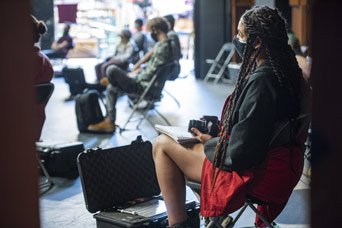 As midterms and finals approach, it's the perfect time for your student to seek virtual help. There are many resources available to help your student study, prepare, and excel as the semester wraps up.
Instructors - Your student's instructors are one of the most valuable sources of academic support. Encourage your student to contact their professors during office hours. Many students who had previously been nervous about visiting their professors have found it easier to meet with them virtually.
The Library - The HSU Library offers a wide range of resources, including Skillshops that help students improve their research skills, use learning technologies, improve critical reading skills, and much more. See all of the library Skillshops here.
Academic Advising - Your student's advisor is the best source to help develop a degree plan, communicate about academic opportunities, refer students to appropriate campus resources and make the most of their college experience. Additionally, the Academic & Career Advising Center (ACAC) has advisors who can answer general questions on degree requirements, academic policies and procedures, resume review, job search and other career services.
The Learning Center - Supplemental instruction will begin the first week of classes; and tutoring, writing support, and coaching will be available the second week. Sessions will be held primarily over Zoom. Visit the Learning Center website for more information.
There are many more options for academic support, including specialized resources for service learning and internships, Dreamers, and more. Visit the Campus Ready guide on Academic Support and the Keep Learning website for more information.
Travel and Moving Out
Face-to-face instruction ends Nov. 6, and Fall Break runs Nov. 23-27. Students living on campus who plan to return in January are not required to stay in housing after Nov. 6 and may leave their belongings until the start of the Spring Semester.
Students who elect to leave for the rest of the Fall semester and don't plan to return for Spring will be released from the remaining rent and board charges by following the Request to Vacate procedure that was emailed out recently to all Housing residents. Contact Housing with any questions about this process: housing@humboldt.edu or 707.826.3451.
In particular, recall that if students travel outside Humboldt County for any reason, they must quarantine for 14 days prior to returning to campus. That means not visiting campus services, and not returning to their in-person job. Traveling can have serious consequences for student employees--unless they work virtually, they'll miss at least 14 days of work. And keep in mind that HSU has limited quarantine spaces available for Housing residents.
The Campus Community—students, staff, and faculty—has collaborated closely and had a successful and safe semester so far. Through rigorous testing, adherence to safety protocols, and a full campus response to COVID-19, there are currently no active cases in the campus community.
But that doesn't mean the University can let down its guard. We ask students to continue to adhere to the Social Responsibility Commitment.
Forever Humboldt Families 101
Thanks to all the parents and family members who have taken our online course, Forever Humboldt Families 101. Your students have been very excited to receive their Humboldt State sweatshirts on your completion of the course!
If you haven't taken the class, it's not too late. The free, nine-week course is designed for new family members to learn how to support their student while at HSU. You'll get a free Humboldt State sweatshirt for your student when you finish.
Topics include transitioning into the first semester, getting involved in clubs and other activities, seeking academic support, and enjoying Humboldt's beautiful outdoors. You will also learn more about financial aid, find important housing resources, and learn about HSU's commitment to keeping your student safe and healthy.
Visit family.humboldt.edu to sign up for Forever Humboldt Families 101.
Campus Ready
Humboldt State University has developed plans for instruction, flexible repopulation of campus, and student experience during the 2020-21 academic year. Learn more at campusready.humboldt.edu.
Join the Conversation
Social Network » hsufamilynetwork.org
Website » family.humboldt.edu
Email » family@humboldt.edu
Latest News from Campus
» Nursing and Social Work Certificate Takes a Holistic Approach to Community Health
» How Eco-Friendly are we? See for Yourself ...
» Sponsored Programs Foundation Distributes $650k to HSU Research Community

Student Wildfire Hardship Relief
This year has proven to be the worst wildfire season in California's history. These fires have disrupted the lives of some HSU students during already challenging circumstances.
Evacuation, loss of internet, poor air quality and for some, the loss of a home are devastating events but with your support, students can keep learning and progress to their degree.
Donate to the Student Adversity Fund today. This fund provides immediate assistance to students who have an unexpected situation or emergency that could force them to drop out of school.
Your gift will help HSU students affected by the wildfires continue their education at HSU.