Get Connected, Stay Involved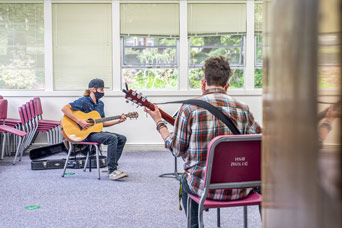 As we approach longer nights and colder and wetter weather, it's important for your student to make social connections now so they can stay connected with the campus community.
The Dean of Students Office, Forever Humboldt, and many other campus clubs and organizations are working hard to create activities for your student to meet people and stay engaged socially and academically.
Green & Gold Homecoming Week, Oct 5-9, looks a little different this year, with a lineup of mostly virtual events giving students and their families the opportunities to learn, play, connect, and celebrate what it means to be a Lumberjack. Events include a Green & Gold Car Parade through downtown Arcata on Friday, Oct. 9.
See all Homecoming events here.
HSU's Virtual Quad--a calendar of virtual events including workshops, guest speakers, performances, and much more--is also an important resource.
View the Virtual Quad here.
HSU's clubs are another way for students to meet like-minded people, and there's a vast array of interests represented at HSU. Encourage your student to peruse clubs, consider creating their own, and finding a community of friends that will help them have the best college experience.
Learn more at the Clubs & Organizations website.
Meet the New Chancellor
The California State University system announced a new Chancellor recently, Joseph I. Castro, who had previously served as president of Fresno State University. Learn more about Castro, the first California native and Mexican American to oversee the CSU.
Campus Ready
Humboldt State University has developed plans for instruction, flexible repopulation of campus, and student experience during the 2020-21 academic year. Learn more at campusready.humboldt.edu.
Join the Conversation
Social Network » hsufamilynetwork.org
Website » family.humboldt.edu
Email » family@humboldt.edu
Latest News from Campus
» 'Science for All' with Spanish-Language Education in STEM
» Strategic Planning Process Kicks Off
» Athletics Year in Review
» HSU Reserves Residence Halls for Firefighters
» CSU Trustee Award Winner Wants to Help Native Youth

Student Wildfire Hardship Relief
This year has proven to be the worst wildfire season in California's history. These fires have disrupted the lives of some HSU students during already challenging circumstances.
Evacuation, loss of internet, poor air quality and for some, the loss of a home are devastating events but with your support, students can keep learning and progress to their degree.
Donate to the Student Adversity Fund today. This fund provides immediate assistance to students who have an unexpected situation or emergency that could force them to drop out of school.
Your gift will help HSU students affected by the wildfires continue their education at HSU.