Standing Together in Solidarity
In response to devastating and heartbreaking times in our country, HSU shared a message of support and solidarity.
What to Expect this Fall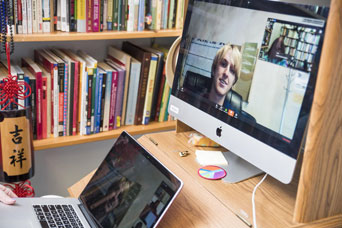 While we don't know yet what the fall semester will look like, you can be assured that Humboldt State is working hard to ensure your student has the best possible classroom and student experience they can. In other words, as we prepare for a mix of virtual and limited in-person instruction - your student will still be getting the HSU experience they signed up for.
You may have read that CSU Chancellor Timothy P. White has taken bold measures for student safety, declaring that all CSU instruction will continue online in the fall. But he's also suggested that some particularly unique schools -- Humboldt, in particular -- may be open to exceptions.
With that in mind, HSU is developing a proposal for limited face-to-face instruction this fall, and the entire campus is mobilizing to make this a reality. The fall will be a different experience for every student. It may make sense for some to continue their studies from home. Others may be eager to return to the labs, studios, and fieldwork that is a hallmark of an HSU education.
Whichever you and your student decide on, know that safety is the first priority, followed by engaging, rigorous academics. Faculty are taking advantage of a summer's worth of training and learning opportunities to expand their virtual teaching skills. And staff and faculty continue to work on new modes of student support--from advising and financial aid support to mental health and healthy food--while looking for ways to ensure a meaningful college experience, with the camaraderie, networking, recreation, entertainment, and growth that provides.
Read more about HSU's proposal for fall instruction.
Learn about student support for summer and fall.
Fall Housing Options
If your student stayed or is returning to the Humboldt State community in the fall, making sure they have safe, adequate housing is a priority. HSU will be offering on-campus housing in the fall and spring, though capacity will be limited as social distancing, additional sanitization, and other safety measures will need to be taken. Students who live on campus are still eligible to earn a $1,000 per year scholarship.
Learn more about the scholarship and apply for housing at the Housing & Residence Life website.
HSU also offers assistance for students seeking off-campus housing. For more resources contact our off-campus housing coordinator.
HSU also recently announced a grant program to help students afford deposits and first month's rent, which are often financial stumbling blocks for students seeking off-campus housing. Learn about eligibility and apply here.
Grads Recognized at HSU Virtual Ceremonies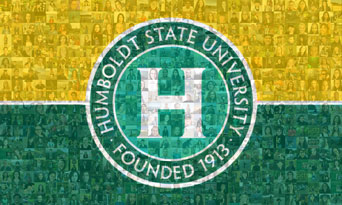 HSU's class of 2020 graduated on May 16 in a virtual ceremony full of good spirits and inspiring messages for the future. Students who recorded short video clips were featured in the ceremony, and their creativity and resilience were a hallmark of the commencement ceremony, which was shifted to a live broadcast in response to COVID-19.
Videos, photos, and messages that were submitted by students are archived on HSU's Commencement website, where you can also download a high-resolution version of a composite image featuring hundreds of graduates. The full videos of the ceremonies are available to watch on HSU's YouTube channel.
Graduates are encouraged to register for FREE for Forever Humboldt, HSU's association of alumni and others who are connected to the University. Forever Humboldt helps alumni keep connections with each other, showcases HSU pride, and encourages support of HSU students.
Otter Sculptures Unveiled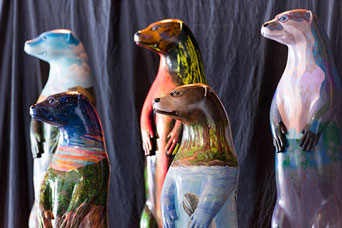 The North Coast Otters project celebrated World Otter Day, May 27, with a virtual sneak peek of the more than 100 otter sculptures designed and decorated by artists from the North Coast and beyond.
These sculptures will eventually be placed all over the North Coast for residents and visitors alike to seek out and enjoy. Auctioned sculptures will support student research of wild otters.
Learn more about North Coast Otters.
Join the Conversation
Social Network » hsufamilynetwork.org
Website » family.humboldt.edu
Email » family@humboldt.edu
Latest News from Campus
» Summer Session: HSU Ramps Up Professional Development to Enhance Remote Teaching
» Jenn Capps Named Provost at Humboldt State University
» Campus Departments Collaborate to Print Face Shields for Student Healthcare Center
Giving Opportunity
As the new RN to BSN Nursing Program at Humboldt State University has begun accepting applications for its first new cohort of students, one alum has stepped up with a $150,000 gift to support the program through scholarships. You can also support nursing students by giving to the Robin M. Smith, RN, BSN Nursing Scholarship Endowment. To learn more about the HSU Nursing program, visit nursing.humboldt.edu.
Now, through June 30, 2020, all gifts to support HSU California Dream Act students will be doubled, thanks to a matching $10,000 grant from Humboldt Area Foundation. Gifts will help undocumented HSU students offset the loss of wages, secure housing, and afford basic needs during this time. HSU Dreamerstudents are among the students who do not qualify to receive the federal CARES support in the wake of the COVID-19 crisis.
Help support Dreamer students.