How Humboldt is Helping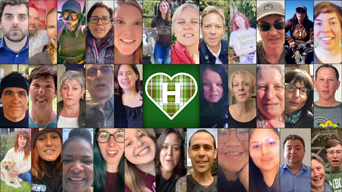 Humboldt State and the community are doing everything they can to support your student, whether they're sheltering in place at home or on campus.
Since campus operations went virtual in March, donors have helped students with technology issues, basic needs, and healthcare. The HSU library sent out almost 200 laptops to students, many of which were purchased with donor funds. Additional support from the Student Adversity Fund helped students with the transition by expanding data plans and access to Wi-Fi, a challenge for some students, particularly those who live in remote areas.
Members of the campus community have also begun donating sewn face coverings, which are now required for anyone in Humboldt County making essential trips. Learn more about the donations here.
Donor funds have also helped the Oh SNAP! Student Food Programs respond to the emergency needs of HSU students. Currently, Oh SNAP! is serving 250 students weekly with groceries, including delivery to students who are unable to pick up bags of food. The program is also aiding students in applying for Calfresh and the Emergency J-point program, which provides credits to use at on-campus dining.
The HSU Foundation recently committed $140,000 in donated funds to St. Joseph Health for the purchase of four ventilators. The equipment is needed to provide healthcare to the community, including HSU students and employees, during the COVID-19 response.
And HSU staff and faculty supported County Public Health by producing 1,200 COVID-19 testing kits in March. Read more about that effort here.
As a HSU community, we may be distant for now, but we are close at heart always. Your continued support is helping students stay in school, and staff and faculty serve the campus, even through the unprecedented challenges they are facing. Learn about Humboldt Connected here.
Virtual Commencement
Watch your student graduate on Saturday, May 16 on YouTube Live!
On the day of Commencement, HSU will be broadcasting a video for each College. The ceremony videos will have a Commencement address from the President and others, pre-recorded messages from graduates.
College of Arts, Humanities & Social Sciences—10 a.m.
College of Natural Resources & Sciences—1 p.m.
College of Professional Studies—4 p.m.
Learn more at HSU's Commencement website.
Join the Conversation
Social Network hsufamilynetwork.org »
Website family.humboldt.edu »
Email family@humboldt.edu »
Latest News from Campus
» HSU Student Newspapers to be Mailed to Students
» CSU to Suspend Standardized Testing Requirement for Upcoming Admission Cycles
» HSU Students Participating in Virtual CSU Student Research Competition
Giving Opportunity
Your support is helping address some of the most challenging issues HSU is facing at this time. We're meeting this challenge together, providing funds for technology, food, housing, and healthcare. Your support is helping students stay in school, and staff and faculty serve the campus, even through the unprecedented challenges they are facing.