Staying Healthy During Spring Break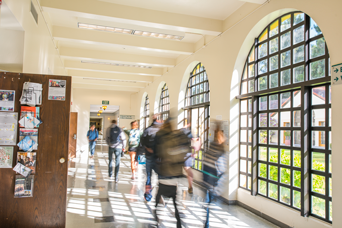 Spring Break is coming and your student is probably looking forward to a well-deserved break from school.
But this year's break, March 16-20, is coinciding with a potential U.S. outbreak of the Novel Coronavirus COVID-19.
The Centers for Disease Control has been monitoring the disease and continues to provide guidelines for U.S. residents and employers.
HSU has been taking measures to ensure the safety of students, faculty, and staff, by monitoring the situation and preparing a response should it affect campus. The University works closely with and follows strict guidelines from the CDC and California and county public health agencies. Learn more about the University's response to the virus on this website.
There are also ways you can help yourself, your student, and our communities stay safe.
The CDC is warning that traveling to certain countries outside the U.S. may increase the risk of contracting COVID-19. Please be aware of these if your student plans to travel during spring break. See travel health notices on the CDC website.
If you are ill and have traveled out of the country in the last two weeks or if you have had close contact with a person known to be infected by COVID-19:
Notify your local health care provider as soon as possible.
Stay home and do not come to campus for classes or for work.
Students with fevers, cough, or severe illness should call the Student Health & Wellbeing Services team before visiting the Student Health Center at 707-826-3146.
Staff and faculty should contact their healthcare providers or the emergency room to seek medical attention as soon as possible.
Health Recommendations
Stay home if you are sick or have a fever. You should remain at home until your fever is gone (without the use of fever-reducing medications) for at least 24 hours.
Wash your hands frequently and avoid touching your face and eyes, nose, mouth.
Routinely clean your home particularly for high touch surfaces like doorknobs.
Consider limiting attendance at optional large gatherings because this is where colds, flu, and other respiratory viral infections are spread.
Six Years of Harm Prevention
HSU's student-led violence prevention program recently celebrated its sixth year.
CHECK IT, which began in 2014 and has received recognition from the White House, focuses on educating students and the community about consent as well as strategies for preventing and intervening in cases of sexual violence. It has grown to involve more than 100 student volunteers who put on a variety of workshops and other events. The program is even expanding into the community—coordinators are working to establish a CHECK IT chapter at Arcata High School.
Learn more about CHECK IT on the program's website.
Commencement and Grad Fair
Registration is necessary to participate in the May 16 Commencement ceremony. The deadline to register for this Spring's event is Friday, April 3. Visit the Commencement website, and please visit our Commencement FAQs page for answers to all of your ceremony questions.
It's also a good time to make plans if you're going to visit HSU for Commencement -- local lodging options sell out early. Learn more about travel and local lodging on this website.
And HSU is hosting the annual Grad Fair March 25-26, where students can purchase Commencement regalia, pre-order flowers and photo packages, get free professional portraits, register for commencement, and more. The event takes place at the HSU bookstore, and more details are available here.
Join the Conversation
Social Network hsufamilynetwork.org »
Website family.humboldt.edu »
Email family@humboldt.edu »
Latest News from Campus
» HSU a top Peace Corps Volunteer-Producing School
» HSU Chemistry Professor Wins Prestigious $100,000 Science Award
» Humboldt State Hires Jane Teixeira as Next Athletic Director
Giving Opportunity
Humboldt Parents & Family Fund
You have the opportunity to make a gift that will help not only your student but also help their friends and peers. Donations to the Parents & Family Fund are immediately put to use on campus by improving students' experiences inside and outside the classroom. Your gift could help remodel a lab, provide a paid internship opportunity, and purchase much needed equipment for an outdoor learning experience all at the same time.