Having fun on campus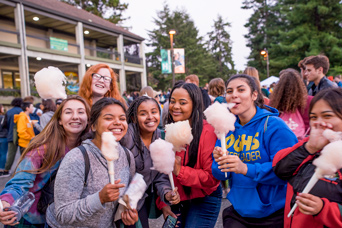 It's an unspoken expectation that college should be fun. And we at Humboldt agree! It's not only a great way to connect with campus and friends, but also good for the learning experience.
A 2013 report in the Journal of College Student Development found that when students "actively participate in curricular and co-curricular events, they make friends, become oriented to campus quickly, get to know faculty members, and make important gains in critical thinking." Another study found that getting involved in a variety of activities during college "significantly contributed to cumulative GPA and students' perception of the overall academic experience."
That's why it's important for the University to support a diverse array of events that entertain, inspire, and educate.
February is Black Liberation Month, with Dr. Cornell West visiting campus for a guest lecture and a host of happenings including a skate night, stage reading, dancehall workout, beauty and wellness pop-up, and much more. Visit the Academic Center for African American Excellence website for a full program.
This semester also sees the launch of HSU's Coffee House Series in the Depot, a series of free evening events that include concerts, DJs, and open mic nights. See these and all campus performances at the CenterArts website.
And students can learn about upcoming movie nights, outdoor activities, lectures, and trainings on everything from understanding credit cards to becoming a Wikipedia contributor at humboldt.edu/events. Visit the calendar now!
Register for Commencement!
Registration is necessary to participate in the May 16 Commencement ceremony. Beginning in late January, students will receive an email inviting them to register for Commencement. Remind them to keep an eye out and register early if they're planning to walk.There is no additional cost to participate in the ceremony. The deadline to register for this Spring's event is Friday, April 3.
It's also a good time to make plans if you're going to visit HSU for Commencement -- local lodging options sell out early. Learn more about travel and local lodging on this website.
Visit the Commencement website.
Presidential Investiture
Humboldt State University officially welcomed its eighth President, Tom Jackson, Jr., and celebrated the campus community at the Presidential Investiture on January 15. In a ceremony attended by local leaders, campus dignitaries from around the CSU, Chancellor Timothy P. White, and hundreds of staff, students, and faculty, speakers shared their hopes and excitement for the future of the University.
At a fundraiser dinner that evening, donors gave more than $160,000 for scholarships that will directly benefit students.
Watch a short recap of the ceremony
Join the Conversation
Social Network hsufamilynetwork.org »
Website family.humboldt.edu »
Email family@humboldt.edu »
Latest News from Campus
» Free Professional Wear for Students
» New Alternative Spring Break Empowers Students in Climate Resilience and Local Activism
» Donors Give More Than $160,000 for Humboldt State Scholarships at Fundraiser
» More Freshmen are Staying in School
Giving Opportunity
Humboldt Parents & Family Fund
You have the opportunity to make a gift that will help not only your student but also help their friends and peers. Donations to the Parents & Family Fund are immediately put to use on campus by improving students' experiences inside and outside the classroom. Your gift could help remodel a lab, provide a paid internship opportunity, and purchase much needed equipment for an outdoor learning experience all at the same time.