The Dean of Students: Here for you and your student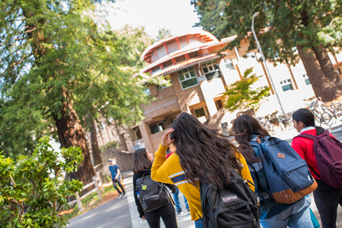 The Dean of Students office plays a critical role in the support, protection, and happiness of HSU students. The dean and her staff negotiate disputes between students, enforce campus policies, provide disability, testing and veterans services, and provide community service and entertainment activities for students.
Eboni Turnbow was hired as Dean of Students at Humboldt State in August, bringing a background in student services and equity and inclusion in higher education.
The Office of the Dean of Students and our affiliated programs look forward to working with our students and promoting their success by providing advocacy, support, and services to meet their needs. Our programs include:
Office of the Dean of Students:

Campus Assistance, Response, and Engagement (CARE) Services
Student Rights and Responsibilities

Student Access Services:

Student Disability Resources Center
Testing Services Center
Veterans Enrollment and Transition Services

Office of Student Life

Clubs and Activities
Youth Educational Services (YES)
Learn more by visiting the Dean of Students website.
Join us for the President's Investiture
You're invited to attend the Presidential Investiture events for Tom Jackson, Jr. as the eighth President of Humboldt State University.
The Investiture Ceremony takes place Wednesday, Jan. 15 at 2 p.m. in the Van Duzer Theatre. A reception will follow.
Defined as the "act or ceremony of conferring the authority and symbols of a high office," an investiture is an academic ceremony in which a new leader is "vested" with the official powers of office.
Learn more on the President's website.
Join the Conversation
Social Network hsufamilynetwork.org »
Website family.humboldt.edu »
Email family@humboldt.edu »
Latest News from Campus
» Housing, Meal Prices Won't Rise Next Year
» Student Led Pre-Med Internship Launches
» With a Green Stamp of Approval, HSU Dining Working to be Even Greener
Giving Opportunity
Humboldt Parents & Family Fund
You have the opportunity to make a gift that will help not only your student but also help their friends and peers. Donations to the Parents & Family Fund are immediately put to use on campus by improving students' experiences inside and outside the classroom. Your gift could help remodel a lab, provide a paid internship opportunity, and purchase much needed equipment for an outdoor learning experience all at the same time.